The spine is a miraculous piece of architecture, it gives your body strength and stability while being incredibly flexible. Not only that, it houses the nerves that make up your spinal column, allowing for a freeway of communication to be constantly ongoing throughout the body. This is why it's so important that any issues with your spine be addressed by our orthopedic doctors.
At Downtown Pain Physicians NYC, we have a complete staff that is ready to listen to what's happening and causing you pain, we'll carefully and thoroughly address your symptoms, come up with a diagnosis, and then work with you to create an effective treatment plan. Our approach is to start with a minimally invasive approach and to progress until we find a solution that works. Sometimes the best way to treat your back pain is with spine surgery.
Different Types of Spinal Surgery
Not all spinal surgeries are the same, just like all back pain isn't the same and the causes of your pain are also varied. A key part of your care in our office is pinpointing how best to alleviate your pain symptoms and find an appropriate permanent solution. Some common types (but not all) of spine surgeries we perform at Downtown Pain Physicians include:
Let's take a closer look at these options and how our spine care center can help you move past spinal pain and back to enjoying life and doing the activities you love.
Minimally Invasive Spine Surgery. Spine surgery has made huge advancements and patients are now given the option of minimally invasive surgery that requires less downtime, provides a full recovery with minimal pain, and the entire surgical process is easier for everyone involved. These advances mean smaller incisions and the use of endoscopic tools which can restore pain-free movement and activities faster, so surgery is not as traumatic as it once was.
Laminectomy. If surgical intervention is needed to relive back or neck pain, one surgery that's very successful and common is a spinal laminectomy. A laminectomy surgery may be done on its own or the laminectomy procedure may be just a part of a broader spinal surgery. During a laminectomy, the impinging vertebral bone (lamina) is removed either partially or completely to ease pressure on the spinal cord and/or nerve roots.
Cervical Disc Replacement Surgery. The discs that rest between your cervical vertebrae have a lot of responsibilities and when they're compromised, you suffer. Luckily there are ways to remedy the situation and even replace these discs so you can leave your symptoms behind and once again resume your activities of daily life.
Corpectomy Surgery. There are many different causes of spinal pain, but one thing is the same, spinal pain can be life altering and leave people so restricted that they're unable to perform daily tasks and enjoy life. If your surgeon decides that corpectomy surgery is right for you, then you've probably tried other courses of action. This procedure is done when other options have not worked. When you have a corpectomy, the offending or damaged vertebrae and discs are removed.
Spinal Fusion Surgery. Spinal fusion surgery is a very successful option if your symptoms are related to underlying deformities of the spine, spinal weakness or instability, or a herniated disc. This procedure involves permanently connecting two or more vertebrae in the spine and can be done at any level of the spine. Fusion surgery is performed when there are two or more vertebrae that would perform better if they were permanently connected.
TLIF/XLIF. Transforaminal lumbar interbody fusion or, TLIF or TLIF surgery is basically spinal fusion surgery that is approached from the back of the torso. XLIF surgery or extreme lateral interbody fusion this is another spinal fusion surgery but this one uses an approach from the side of the body for less muscular interference, a shorter recovery period, and less pain.
Spinal Reconstruction/Spinal Revision Surgery. Spinal revision surgery only happens when you've had a previous spine surgery and need some corrections. Spinal reconstruction surgery can be very different from spinal revision surgery. The goal of spinal reconstruction is to restore function and reduce pain. This procedure is sometimes called a spine fusion and immobilizes the spine in that spot to eliminate movement, release impinged nerves, and create stability.
Hemilaminectomy. A laminectomy surgery is a minimally invasive, outpatient surgery that's done to widen the spinal canal and relieve pressure on the nerves of the spinal cord. When your doctor prescribes a hemilaminectomy, they are suggesting a laminectomy but only on one side.
Lumbar Decompression. All spinal decompression surgeries are designed to relieve the symptoms caused by pressure or compression on the spinal cord and nerve roots. There are several different options for this surgical release. One of the more common decompression surgeries is a lumbar spine surgery. This could also include other spine surgeries and endoscopic spine surgery.
Spinal Cord Stimulator Surgery. A spinal cord stimulator is permanently implanted in the spinal canal to provide pain relief. This procedure attempts to convert the painful sensation to a tingling sensation, which the brain perceives as more desirable. The spinal cord stimulator differs from other spinal surgeries in that it does not change the underlying condition; it simply changes the brain's perception of pain.
Meet Your Surgeon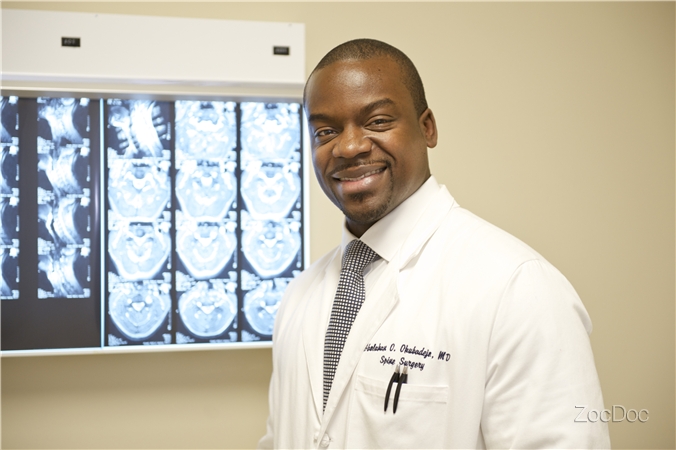 Downtown Pain Physicians has one of the best orthopedic surgeons on staff, ready to help you start the recovery process. Dr. Gbolahan Okubadejo is an expert in spinal surgery, giving his patients the best care available with a focus on your long-term goals and customizing a treatment program that goes beyond surgery and incorporates after-care so you can get back to enjoying life to the fullest and participating in the activities you love.
Dr. Okubadejo is an outstanding resource for our medical group, bringing a well-rounded education and award-winning ideas to our patients. His approach to surgical options is geared toward creating best case scenarios where pain and recovery time is minimized with exceptional outcomes.



"GREAT DOCTOR!"

He was a very detailed in explaining what was wrong. Great Doctor!




"PROFESSIONAL"

Friendly, very professional, caring, and explained in detail what test I have to get done in order to determine if surgery is needed or not. I have faith & trust any decision Dr. Okubadejo will give me. After I get better with my neck, then he will start treating me for my lower back. My husband & I left his office with such a relief because finally I found the right doctor that is willing to help me with my neck & back problems.
Book Your Appointment Now at Downtown Pain Physicians NYC
If you're suffering with neck pain, back pain or any spinal injury, it's time to schedule an appointment and begin healing. There's no reason to put it off any longer, in fact, the sooner you begin care, the easier it is for your body to recover.
At Downtown Pain Physicians NYC, we often treat busy professionals. Our Downtown and Lower Manhattan area locations makes it convenient for people who live and work near the Lower East Side, Tribeca, Financial District, Downtown Brooklyn, Dumbo, Soho, Chelsea, East Village, Murray Hill, Brooklyn Heights, Williamsburg and surrounding areas to stop in for a consultation and appointments.
In our office, you'll find a welcoming space that puts your comfort first. From the moment you step in the door, our staff will work to accommodate your needs and get you in to see the doctor with little wait time. We've invested in the best state-of-the art diagnostic tools available to give you the most accurate care and a targeted treatment plan that works. Having the latest and the best technology from the beginning to the end of your care in our office leads to a faster recovery with less setbacks along the way. We also put a lot of stock in our entire staff, making sure that we have top-rated patient care specialists who are leaders in their field. Your health care is our priority.
Connect with our office today to schedule an appointment and begin the healing process.
DISCLAIMER: PLEASE READ CAREFULLY
The information on this website is to provide general information. In no way does any of the information provided reflect definitive treatment advice. It is essential to consult a best-in-class pain management specialist in New York regarding ANY questions or issues. A thorough evaluation should ALWAYS be performed for an accurate diagnosis and treatment plan. Be sure to call your pain doctor to schedule a consultation.
Dr. Gbolahan O. Okubadejo, M.D.

Board certified and fellowship trained
Orthopaedic Spine Surgeon

Education & training

Johns Hopkins University, Doctor of Medicine
Washington University, St. Louis, Barnes-Jewish Hospital (Internship)
Washington University, St. Louis, Barnes-Jewish Hospital, Residency in Orthopedic Surgery
University of Pittsburgh Medical Center, Fellowship in Spine Surgery
Brown University
Book Now