All spinal decompression surgeries are designed to relieve the symptoms caused by pressure or compression on the spinal cord and nerve roots. There are several different options for this surgical release.
One of the more common decompression surgeries is a lumbar spine decompression. The lumbar region of your spine is the low back area, which is very commonly afflicted with pain. In fact, it's so common that at any given time, it's estimated that 25% of all adults have had low back pain within the last three months, that's one out of every four people; it's the most common pain reported.
If you're suffering with low back pain and live in the greater New York area, you can find pain relief at Downtown Pain Physicians. We have a complete offering of physicians and orthopedic spinal surgeons to help you find the proper diagnosis and treatment program. From conservative treatments to minimally invasive surgeries, we'll determine the best course of treatment for your condition.
Symptoms of Spinal Nerve Compression
If you're suffering from any of the following symptoms, you might be a candidate for lumbar decompression back surgery to relieve your pain and get you back to enjoying life again.
Pain in the low back region or radiculopathy
Numbness or tingling in your lower extremities
A burning sensation in the back and/or legs
Weakness and difficulty walking
Unsteadiness or increased clumsiness
Loss of sexual ability
Difficulty controlling your bowels or bladder
Paralysis
These symptoms could be a sign of nerve compression and you should seek medical advice to determine what the next best steps are for your diagnosis and subsequent care.
Conditions Lumbar Decompression Back Surgery Treats
Not all of the following conditions are immediate candidates for lumbar disc decompression, in fact, many of them may respond favorably to more conservative treatments. But if you are diagnosed with one of the following conditions, there's a chance that your solution might lie in a surgical procedure to remove nerve impingement and compression.
Spinal stenosis
Sciatica due to a slipped disc or herniation
Spinal injuries due to trauma
Metastatic spinal cord compression
Abnormal spinal cord alignment
Degenerative bone diseases
Rheumatoid arthritis
Infection
Types of Lumbar Decompression Surgery
As mentioned above, the term decompression surgery is actually a blanket term that covers several different procedures, all with the goal of relieving pressure on the spinal column. When it comes to lumbar decompression surgery, the following procedures might be the solution your surgeon recommends.
Laminectomy. This surgery removes a small part of the pony arches of the spinal canal which are called the lamina. This procedure increases the size of the spinal canal, allowing for more space and less pressure.
Foraminectomy. This procedure expands the openings where the nerve roots enter and exit the spinal cord. Typically, some bone and other tissue needs to be removed to open the foramen.
Osteophyte removal. Bony growths on the spine or bone spurs sometimes crop up and interfere with the nerves. Removing these growths releases that impingement.
Corpectomy. A corpectomy involves the removal of a vertebra and the discs, different techniques are used to do this procedure and appropriately stabilize the spine after surgery.
Spinal fusion. (link to page) If a spinal fusion is necessary, then two or more vertebrae are permanently connected to each other. This will limit your flexibility, but the process will remove damaged bone and provide more stability and a freer flow of nerve impulses.
Because this is a broad term that covers many different procedures, the approach to surgery and the outcome will be different. It's best to thoroughly discuss your individual diagnosis, treatment options, and care plan with your medical team. They'll advise you of your options and what to expect if surgery is the best solution for relieving your low back pain.
Recovering from Lumbar Decompression Surgery
While every surgery is different and results depend on the individual, there are some common expectations that you should have when going into your surgery. These can be confirmed by your surgeon but they're a good guide and can help you prepare for what's to come.
Hospital stay. Most people who have some type of decompression surgery will have a hospital stay. Your stay can last from one day to several.
Get up and moving. Your health care team will probably have you up and moving as soon as possible. For some this can be the same day and that's a good thing. The more you can move and the sooner, the faster you'll be on the road to recovery.
Pain medications. Most people are prescribed pain medications to help them tolerate the pain and keep working on their mobility.
Physical therapy. You'll likely be prescribed exercises to do to help strengthen your body. Not just to recover from surgery but to regain strength you lost during your bout with low back pain.
Time off work. Many people can return to work within four to six weeks after a decompression surgery, but again, that can vary different from one person to the next.
Limitations. In addition to having time off from work, you can expect to have some other limitations like lifting, driving, physical activities, length of time sitting, etc. Keeping to the prescribed limitations will allow for optimal healing.
Help. You're going to need some help managing things you used to do for a while, especially when there are driving and lifting restrictions.
The good news is that these surgeries are largely effective and can give you the back pain relief that you've been searching for. Downtown Pain Physicians has a skilled surgical team who is experienced in all possible decompression surgeries and who can help you find the right approach for your diagnosis. They will help you every step of the way and are here to answer all of your questions.
Meet Your Surgeon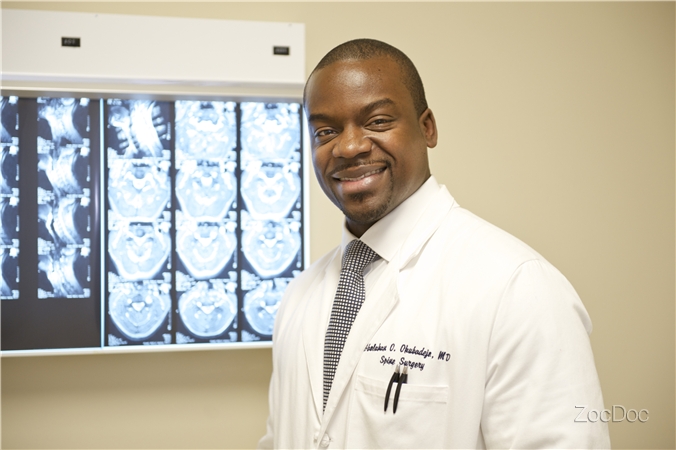 Downtown Pain Physicians has one of the best orthopedic surgeons on staff, ready to help you start the recovery process. Dr. Gbolahan Okubadejo is an expert in spinal surgery, giving his patients the best care available with a focus on your long-term goals and customizing a treatment program that goes beyond surgery and incorporates after-care so you can get back to enjoying life to the fullest and participating in the activities you love.
Dr. Okubadejo is an outstanding resource for our medical group, bringing a well-rounded education and award-winning ideas to our patients. His approach to surgical options is geared toward creating best case scenarios where pain and recovery time is minimized with exceptional outcomes.



"FRIENDLY & PROFESSIONAL"

Friendly, very professional, caring, and explained in detail what test I have to get done in order to determine if surgery is needed or not. I have faith & trust any decision Dr. Okubadejo will give me. After I get better with my neck, then he will start treating me for my lower back. My husband & I left his office with such a relief because finally I found the right doctor that is willing to help me with my neck & back problems.




"GREAT DOCTOR!"

He was a very detailed in explaining what was wrong. Great Doctor!
Book Your Appointment Now at Downtown Pain Physicians NYC
If you're suffering with neck pain, back pain or any spinal injury, it's time to schedule an appointment and begin healing. There's no reason to put it off any longer, in fact, the sooner you begin care, the easier it is for your body to recover.
At Downtown Pain Physicians NYC, we often treat busy professionals. Our Downtown and Lower Manhattan area locations makes it convenient for people who live and work near the Lower East Side, Tribeca, Financial District, Downtown Brooklyn, Dumbo, Soho, Chelsea, East Village, Murray Hill, Brooklyn Heights, Williamsburg and surrounding areas to stop in for a consultation and appointments.
In our office, you'll find a welcoming space that puts your comfort first. From the moment you step in the door, our staff will work to accommodate your needs and get you in to see the doctor with little wait time. We've invested in the best state-of-the art diagnostic tools available to give you the most accurate care and a targeted treatment plan that works. Having the latest and the best technology from the beginning to the end of your care in our office leads to a faster recovery with less setbacks along the way. We also put a lot of stock in our entire staff, making sure that we have top-rated patient care specialists who are leaders in their field. Your health care is our priority.
Connect with our office today to schedule an appointment and begin the healing process.
Dr. Raj Raval, M.D.

Board Certified
Interventional Pain & Musculoskeletal Medicine Specialist

Education & training

SUNY Health Science Center
Rutgers University Fellowship
Book Now
Dr. Raphael Jaramillo, MD

Board Certified
Interventional Pain & Musculoskeletal Medicine Specialist

Education & training

Touro College of Osteopathic Medicine
New York University
Rutgers University
Book Now