Back pain and neck pain can be life altering conditions that leave you unable to perform your daily tasks and enjoy life as you once did. There are solutions to the pain you're suffering with, and our Orthopedic Surgeons at the Downtown Pain Physicians NYC is here to help you find your best course of treatment and begin the journey to living without spinal pain.
If surgical intervention is necessary, one surgery that's very successful and common is a spinal laminectomy. A laminectomy surgery may be done on its own or the laminectomy procedure may be just a part of a broader spinal surgery option. During a laminectomy, the vertebral bone (lamina) is removed either partially or completely to ease pressure on the spinal cord and/or nerve roots.
Do I Need a Laminectomy
Not all back and neck pain leads to a laminectomy. At Downtown Pain Physicians, we will go over your options with you and begin with the most conservative approach to see if relief can be found in other ways. Even minimally invasive laminectomy surgery is a serious procedure and something that shouldn't be approached lightly. When a laminectomy is the best option, we have one of the best of spine surgeons in New York City on staff. Dr. Okubedejo will perform your surgery and guide our top-rated surgical team, to give you optimal results and relieve your back pain symptoms.
You might need a laminectomy if you meet the following criteria:
Conservative treatments have not improved your symptoms
You've had other spinal procedures that have failed or didn't provide enough relief
You're experiencing numbness and/or weakness that makes moving difficult
You've had a loss of bowel or bladder control
You need to have a tumor removed from your spine
You have a herniated disc
You are suffering from a degenerative disorder
There has been a trauma to your spine
Your occupation or hobby activities have caused spinal degeneration or changes in your spine
You suffer from debilitating arthritis
There are degenerative changes occurring in your spine due to aging
Your situation will be unique and must be evaluated by a professional to ensure an accurate diagnosis. You may meet the above criteria, or you could present with other concerns. We find that many people who are prime candidates for decompressive laminectomy or laminectomy and fusion surgeries are people who are suffering with a herniated disc. Herniated discs can lead to sciatica which can be a debilitating spinal condition and a sign that a lumbar laminectomy is needed.
When it comes to cervical laminectomy procedures, one might be needed for herniated discs in the neck region, but they're also often beneficial for patients who are suffering from degenerative disorders. Degenerative issues in the cervical region can result from arthritis, a trauma, and degenerative changes due to age, illness, or occupation.
No matter what condition you're suffering with, all reasonable conservative measures will be considered before back surgery laminectomy is prescribed. That said, sometimes the best approach is surgical intervention which is why Downtown Pain Physicians is a solid solution with the best rated doctors around and a state-of-the-art facility designed to give you technology-guided care and recovery options.
What Happens During a Laminectomy
Whether you're having a cervical laminectomy, a thoracic laminectomy, or a lumbar laminectomy surgery, the procedure is basically the same in all situations. Your surgical team at Downtown Pain Physicians will thoroughly prepare you for what to expect with your laminectomy procedure, before, during, and after surgery but the following gives you a good idea of what will happen during surgery.
An anesthesiologist will administer the anesthesia and watch you throughout the process
Your incision site will be prepped for surgery
Small incisions will be made over the selected vertebra or vertebrae
Your surgeon will enter the surgical site and move muscles for easier access
The bony arch of the posterior portion of the vertebra (lamina) is removed
Additional bone growths, the disc, or the entire vertebra may be removed
If you're having a spinal fusion, this will be performed at this time
Your incision will be closed from the inside and the outside for minimal scarring
Your wounds will be dressed, and you'll move into a recovery area
Things to Know About Your Laminectomy
Anesthesia is necessary. Most laminectomies will require a hospital stay and anesthesia, the type of anesthesia and the length of your stay will depend on your condition.
Minimally invasive surgery heals more quickly. Small incisions are made for a minimally invasive laminotomy discectomy. This gives the surgeon just enough space to manipulate tools and use viewing equipment while reducing the amount of scarring that results and shortening your recovery time.
You may have more than one procedure done at once. Once the surgeon has reached the lamina or the vertebra that is causing the impingement on your nerves, bone spurs will be removed and part or all of the disc may be removed as well. In some situations, a spinal fusion is required and two or more bones in the spine are fused together. It is possible to do a minimally invasive laminectomy and a fusion together so there is no additional surgery or large incisions necessary.
Recovery begins as soon as possible. After your surgery, you will begin sitting up and walking as soon as you're able to start the healing process. Pain medication will be prescribed and monitored so you can continue easing into your routine and your physical therapy exercises without discomfort.
Recovery continues at home. At home you will need to monitor the surgical incision area and keep it clean and dry. You'll receive instructions on wound care from your surgical team and they will monitor your healing at follow-up office visits.
Following restrictions leads to optimal end results. It's important to note that you will have some restrictions as you're healing. These can involve not driving, lifting, or bending over and will most certainly require you to take some time off work. These should all be discussed prior to surgery and adhered to after your surgery until your doctor says it's okay to safely resume these activities. This will give you the best results in the long run.
Meet Your Surgeon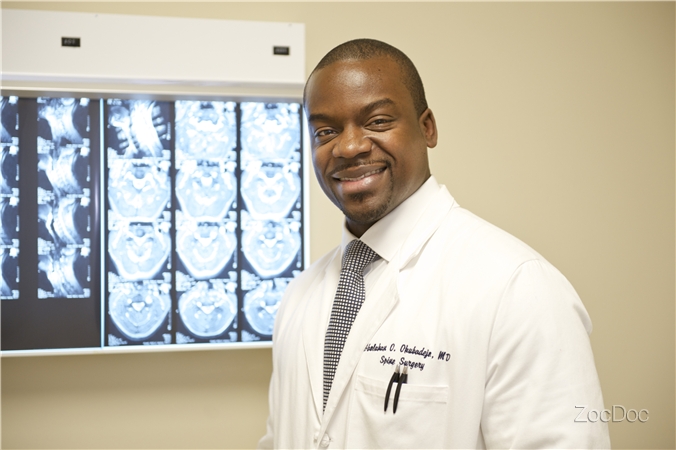 Downtown Pain Physicians has one of the best orthopedic surgeons on staff, ready to help you start the recovery process. Dr. Gbolahan Okubadejo is an expert in spinal surgery, giving his patients the best care available with a focus on your long-term goals and customizing a treatment program that goes beyond surgery and incorporates after-care so you can get back to enjoying life to the fullest and participating in the activities you love.
Dr. Okubadejo is an outstanding resource for our medical group, bringing a well-rounded education and award-winning ideas to our patients. His approach to surgical options is geared toward creating best case scenarios where pain and recovery time is minimized with exceptional outcomes.



"PROFESSIONAL"

I Was very pleased with my first appointment. The Dr. was very professional and answered all of my questions. I look forward to staying with him until my problem is resolved.




"GREAT DOCTOR!"

He was a very detailed in explaining what was wrong. Great Doctor!
Book Your Appointment Now at Downtown Pain Physicians NYC
If you're suffering with neck pain, back pain or any spinal injury, it's time to schedule an appointment and begin healing. There's no reason to put it off any longer, in fact, the sooner you begin care, the easier it is for your body to recover.
At Downtown Pain Physicians NYC, we often treat busy professionals. Our Downtown and Lower Manhattan area locations makes it convenient for people who live and work near the Lower East Side, Tribeca, Financial District, Downtown Brooklyn, Dumbo, Soho, Chelsea, East Village, Murray Hill, Brooklyn Heights, Williamsburg and surrounding areas to stop in for a consultation and appointments.
In our office, you'll find a welcoming space that puts your comfort first. From the moment you step in the door, our staff will work to accommodate your needs and get you in to see the doctor with little wait time. We've invested in the best state-of-the art diagnostic tools available to give you the most accurate care and a targeted treatment plan that works. Having the latest and the best technology from the beginning to the end of your care in our office leads to a faster recovery with less setbacks along the way. We also put a lot of stock in our entire staff, making sure that we have top-rated patient care specialists who are leaders in their field. Your health care is our priority.
Connect with our office today to schedule an appointment and begin the healing process.
DISCLAIMER: PLEASE READ CAREFULLY
The information on this website is to provide general information. In no way does any of the information provided reflect definitive treatment advice. It is essential to consult a best-in-class pain management specialist in New York regarding ANY questions or issues. A thorough evaluation should ALWAYS be performed for an accurate diagnosis and treatment plan. Be sure to call your pain doctor to schedule a consultation.
Dr. Gbolahan O. Okubadejo, M.D.

Board certified and fellowship trained
Orthopaedic Spine Surgeon

Education & training

Johns Hopkins University, Doctor of Medicine
Washington University, St. Louis, Barnes-Jewish Hospital (Internship)
Washington University, St. Louis, Barnes-Jewish Hospital, Residency in Orthopedic Surgery
University of Pittsburgh Medical Center, Fellowship in Spine Surgery
Brown University
Book Now