Back Pain Management in NYC (Lower Manhattan & Downtown Brooklyn)
The lower back supports the weight of the upper body, providing support, movement, and protection of body tissue. Anytime we are standing, bending, extending, or rotating the waist the lower back is providing support. A problem in any part of your spine can cause back pain. Any part of your lower back – muscles, bones, joints, tendons, ligaments, or nerves – can cause lower back problems. Lower back pain is very common.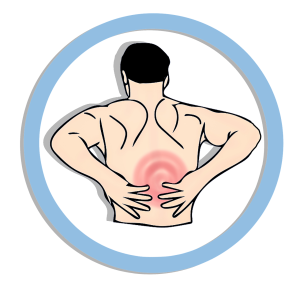 LOWER BACK PAIN SYMPTOMS
Back pain symptoms may include feelings of muscle ache, stabbing or shooting pain, stiff or limited flexibility in the back, inability to stand with proper posture, and radiating the pain down one or both legs. While lower back pain is extremely common, the symptoms and severity of lower back pain vary greatly. Finding the root cause of pain is our main goal. Back pain can take on a wide variety of characteristics a simple lower back muscle strain might be excruciating enough to necessitate an emergency room visit (acute back pain), while a degenerating disc might cause only mild, intermittent discomfort (chronic back pain). For some people, chronic back pain is simply an annoyance. For others, it can be both excruciating and disabling. Back pain can result from injury to a muscle or ligament, or from a more serious injury such as a vertebral fracture, ruptured disk, or arthritis. Call us to speak with a back pain doctor and find out about your options for treatment of your pain condition.
Book Appoinments
212.404.8070
Possible causes of lower back pain include
Degenerative Disc Disease
Herniated Disc
Radiculopathy or Pinched Nerve
Spinal Stenosis
Spondylosis or Arthritis
Vertebral Compression Fracture
TREATMENTS FOR LOWER BACK PAIN
Identifying the symptoms, along with an accurate diagnosis of the root cause of the pain, is the first step in obtaining effective pain relief. Board Certified Specialists at Downtown Pain Physicians – Pain Center NY can help identify the cause of your low back pain and offer effective non-surgical treatments. We have a team of experienced specialists who diagnose the root cause of the problem through latest techniques and employs safe, pain free & nonsurgical therapies, accordingly. Our advanced and affordable therapies help our patients lead a pain-free healthy life. In addition, we use multidisciplinary approaches which help patients get back to their normal life without any pain.
TREATMENT OPTIONS INCLUDE
Lumbar Selective Nerve Root Block
MILD® Procedure for Low Back Pain
Therapeutic Injections
"BEST MEDICAL PRACTICE"

Best medical practice I have in my entire life received the best treatment for multiple injuries I received causing pain and he has also provided the best treatment to my son as well. Dr. Raval takes his time always returns my calls and has treated my son and I as his own family. The staff are all amazing and professional. I would give them more than a 5 Star. So grateful they exist.

"EXTREMELY PROFESSIONAL"

Dr. Raval was extremely professional, thorough, and kind. He explained everything he was doing as he did it and really helped to put my mind at ease. He also recommended a physical therapist for further treatment. Great doctor, great visit. Highly recommended.
Read more reviews
FAQ: Back Pain Management NYC
What risk factors contribute to chronic back pain?
aging – with age causes a reduction in bone strength, muscle elasticity, and tone.
Obesity – being overweight adds pressure to the lower back
pregnancy – the additional weight during pregnancy can strain the lower back
Stress and anxiety – cause tension throughout the body
Improper lifting- always lift heavy objects with your legs and not your back
What should I do at home when my back hurts?
Healthy stretching
Over-the-counter painkillers such as ibuprofen.
Apply heat or ice to the location of the acute back pain
Sleep on your back with a pillow under your knees or on your side with a pillow between your legs
Relax and try to reduce anxiety and tension
What are some causes of acute lower back pain?
Acute back pain can be caused by injuries from sports or auto accidents. Also lifting heavy objects or rapid twisting of the spine may tear the muscle.
When does acute low back pain become chronic?
When you feel back pain for 3 months or more it is considered chronic back pain.
When should I see a doctor for back pain?
If you have a fever that is accompanied with back it can be a sign of infection
Weakness or numbness in the hips, legs, or arms
Inability to control your bladder or bowel movements
After a traumatic fall or trip for example down a step
When back pain interferes with sleep
Ongoing pain for more than 6 weeks
See our other pain management services in NYC: Knee Pain Relief, Neck Pain Relief, Arthritis Pain Relief, Sciatic Nerve Pain Relief, Jaw Pain Relief,
Dr. Raj Raval, M.D.

Board Certified
Interventional Pain & Musculoskeletal Medicine Specialist

Education & training

SUNY Downstate PMR Residency
Rutgers University Fellowship
Book Now