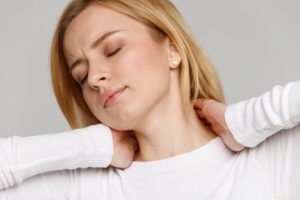 Medial branch refers to the nerves that carry pain signals from the spinal facet joints to the brain. A medial branch block is an injection of chemicals that temporarily block the sending of signals. It is a diagnostic test used to help verify whether a particular facet joint is a source of pain. The block is placed in much the same location as a facet joint injection.
"VERY KIND"

Dr. Raval is very kind and explains everything in layman's terms, which is super helpful. Thanks so much, guys! 🙂

"PLEASANT AND PROFESSIONAL"

Best doctor visit I ever had. Staff was pleasant and the doctor was very pleasant and professional. Took his time and answered all my questions.
Read more reviews
Conditions Treated with Medial Branch Blocks
Medial branch blocks are diagnostic back pain tests used to help verify, or rule out, a facet joint as a source of back pain or neck pain.
Before Medial Branch Block Treatment
Once you have decided to have the injection, the following events take place:
Do not eat or drink anything after midnight before your injection.
You can take your regular heart and blood pressure medications on the morning of the injection with a sip of water.
During Medial Branch Block Treatment
You will lie on a table in a procedure room.
The skin in the area where the injection will be made will be cleaned.
The skin is numbed with lidocaine.
Using fluoroscopy (live X-ray) for guidance, the physician directs a needle toward the medial branch nerve near the facet joint.
The chemicals are injected.
The injection procedure will take about 30 minutes.
After Medial Branch Block Treatment
You will be in a recovery room for about 30 minutes.
It is important that you have someone to drive you home.
It is common to experience an increase in pain once the numbing medicine wears off.
You will need to make an appointment with your doctor to discuss your level of pain relief after the injection.
Dr. Raj Raval, M.D.

Board Certified
Interventional Pain & Musculoskeletal Medicine Specialist

Education & training

SUNY Downstate PMR Residency
Rutgers University Fellowship
Book Now