If you're one of the millions of people who suffer from back pain, your solution might lie in the skilled hands of spinal surgeons. There are a number of surgical options available to relieve pain, limited range of motion, neurological deficits, and to correct problems from previous failed surgeries, trauma, disease, degeneration, and more.
Spinal fusion surgery is a very successful option if your symptoms are related to underlying deformities of the spine, spinal weakness or instability, or a herniated disc. If you think you'd be a good candidate for spial fusion, this information can help you make that decision and find the right surgeon for you. Downtown Pain Physicians NYC is here to help you find relief from spinal pain. We'll carefully listen to your symptoms and work with you to develop the best course of treatment.
What Is Spinal Fusion Surgery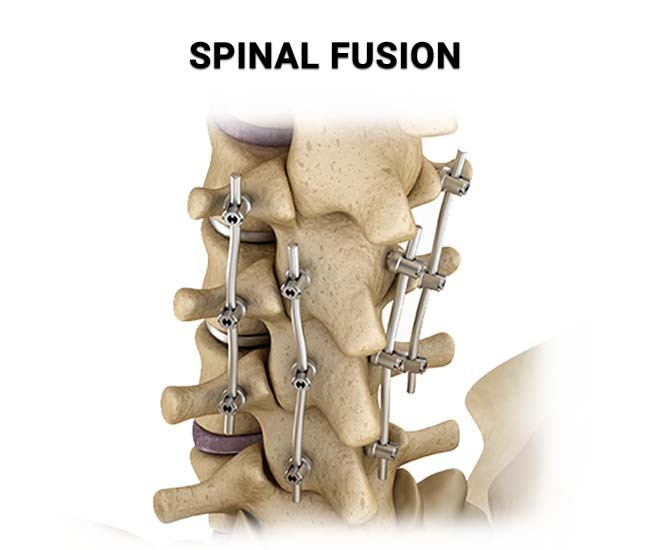 Spinal fusion surgery is also called spondylodesis or spondylosyndesis. This procedure involves connecting two or more vertebrae in the spine and can be done at any level of the spine. Fusion surgery is performed when there are two or more vertebrae would perform better if they were permanently connected. In many situations, the vertebrae in the spine are causing a worsening of pain during movement or an impingement of the spinal cord or nerves.
Between your vertebrae there's a disc that is designed to absorb shock and cushion your vertebrae, so they don't rub together. The disc rests in the front while at the back of the vertebrae are facet joints that work together to give you a range of motion. When you need a fusion surgery, it's these facets that are attached to each other to stop the motion in that one segment of the spine.
A spine surgery can involve a bone graft to encourage those two spinal bones to grow together into one long bone. You might also have metal screws and a plate used to hold the spine in place in that region.
Types of Spinal Fusion Surgery
There are many different ways to approach a spinal fusion, some are related to the way the surgery will be performed and some are related to the area of the body that needs fusion. Some types of fusion surgery and terms you will hear include the following.
Anterior lumbar fusion (ALIF). ALIF surgery is a low back fusion that is approached from the front of the body. If you're suffering from trauma to the low back region of your spine or a degenerative disease, this might be the surgery that's best for your pain relief. For some patients, this approach is the best back surgery option because it can relieve instability and make the most of a threaded titanium cage for disc retention.
Interbody fusion. An interbody fusion is a procedure that involves removing the intervertebral disc. The intervertebral disc is what provides cushioning between your vertebrae. They can be damaged through injury or disease and may need removal and replacing. There are different approaches to an interbody fusion which can include surgery from the front, which is referred to as an anterior lumbar interbody fusion or from the back of the body which is called a posterior interbody fusion.
Scoliosis spinal fusion. You've probably heard of the curved spine condition called scoliosis. When a surgeon does a spinal fusion to correct scoliosis, their goal is to correct the deformity and maintain that correction for less pain and a more active future prognosis. This is a surgery that's often performed when the patient is young and their spine is more flexible. Early detection and treatment also give the patient a better prognosis for the future.
Sacroiliac joint fusion surgery. This particular procedure is typically recommended for people with sacroiliac joint dysfunction and SI joint pain. A sacroiliac fusion is only an option when other treatments have failed because there are risks of serious complications and side effects. But it can be a game-changing surgery that provides people suffering from chronic pain with relief.
Minimally invasive spinal fusion. The goal of a traditional spinal fusion and a minimally invasive one is the same, it's the approach that's different. When you have a minimally invasive procedure, your surgeon is using smaller incisions for access and to promote a faster healing and recovery time.
Do I Need Spinal Fusion
Spinal fusion surgery is a permanent solution that fuses two or more vertebrae in the spine together. It is done when the diagnosis dictates that this is the best approach or when other treatments have been tried and failed. There are several conditions which make a patient a good candidate for spinal fusion, these include:
Scoliosis and other spinal deformities
Severe arthritis that causes spinal weakness and instability
Disc herniation
Degenerative disc disease
Fractured vertebra
Tumor (or tumor removal)
Infection of the spinal column
Not every condition above will require spinal fusion and some conditions that can be best served by having a spinal fusion surgery are not listed. If you think you might be a good candidate for a spinal fusion, schedule a consultation with our team at Downtown Pain Physicians NYC to get a personalized evaluation, diagnosis, and treatment plan.
What to Expect During Spinal Fusion Surgery
Every spinal surgery is different so it's important that you follow your surgeon's specific instructions for pre-care, what will happen during your surgery and hospital stay, and post-care recommendations. Knowing what to expect can help you heal faster and with better results. Most spinal fusion surgeries will include the following steps.
Your surgical prep may include changing medications, preparing your home and helpers for your return from the hospital, taking time off work, sticking to a strict diet before surgery including not eating the night before, preparing a bag for the hospital and perhaps even showering with an antibacterial soap
At the hospital you will have a meeting with the anesthesiologist before anesthesia is administered, you will then be monitored throughout your surgery
Your surgical area will be prepped and there will be one or more incisions
If you're also contributing a bone graft, that surgical area will be prepped and the bone will be harvested
The surgical team will turn their attention to your spine and move muscle and tissue out of the way to begin your fusion
In most situations bone graft material will be placed between the vertebrae and metal plates and screws will be used to hold the vertebrae together
For some patients, additional surgical procedures will also be performed to work hand-in-hand with your spinal fusion
When the surgery is completed, your surgical team will close the incision areas and dress the wounds
You'll be moved to a recovery room and monitored until you're ready to go to your hospital room
Medication for pain will be prescribed and monitored
You may begin working toward sitting up and walking fairly quickly to start the healing process as soon as possible
When you're able to go home you'll be provided with instructions regarding medication, wound care, and your rehabilitation program
It's critical that you follow your care program and stick to your restrictions to ensure the best recovery outcome possible
Recovery from spinal fusion is typically a long process and may take several months. You might wear a brace for part of that period, you'll definitely have restrictions and exercises to follow. If you stick to your treatment plan, you'll stand the best chance for a very favorable outcome and to experience life without pain or the limitations you had previously. At Downtown Pain Doctors, we have the best surgical team around and will work very closely with you to find relief from your pain symptoms.
Meet Your Surgeon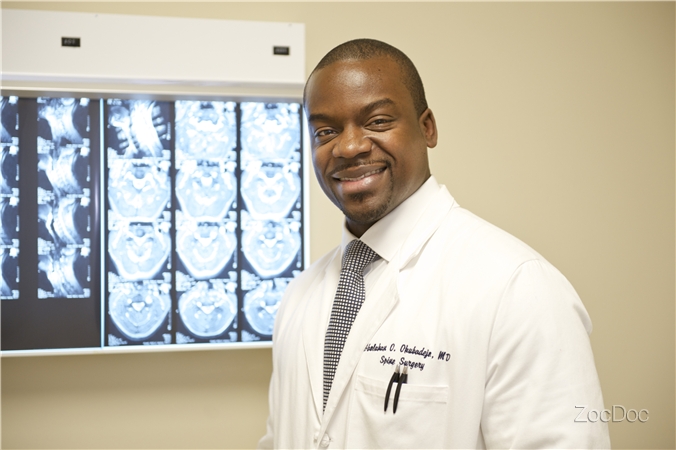 Downtown Pain Physicians has one of the best orthopedic surgeons on staff, ready to help you start the recovery process. Dr. Gbolahan Okubadejo is an expert in spinal surgery, giving his patients the best care available with a focus on your long-term goals and customizing a treatment program that goes beyond surgery and incorporates after-care so you can get back to enjoying life to the fullest and participating in the activities you love.
Dr. Okubadejo is an outstanding resource for our medical group, bringing a well-rounded education and award-winning ideas to our patients. His approach to surgical options is geared toward creating best case scenarios where pain and recovery time is minimized with exceptional outcomes.



"PROFESSIONAL AND KNOWLEDGEABLE"

Doctor Okubadejo is professional and knowledgeable – seemed empathetic considering the severe amount of pain I was in and explained nexts steps clearly – couldn't get into any detail since I need an MRI first but felt comfortable that Dr Okubadejo seemed knowledgable and will continue my treatment here. Front desk staff Melina also very helpful and made the visit easier for me by getting me in for last minute X-rays before I saw the doctor.




"EXCELLENTO"

Excellento. The best thing happen to my life. The Dr. Okubadejo.
Book Your Appointment Now at Downtown Pain Physicians NYC
If you're suffering with neck pain, back pain or any spinal injury, it's time to schedule an appointment and begin healing. There's no reason to put it off any longer, in fact, the sooner you begin care, the easier it is for your body to recover.
At Downtown Pain Physicians NYC, we often treat busy professionals. Our Downtown and Lower Manhattan area locations makes it convenient for people who live and work near the Lower East Side, Tribeca, Financial District, Downtown Brooklyn, Dumbo, Soho, Chelsea, East Village, Murray Hill, Brooklyn Heights, Williamsburg and surrounding areas to stop in for a consultation and appointments.
In our office, you'll find a welcoming space that puts your comfort first. From the moment you step in the door, our staff will work to accommodate your needs and get you in to see the doctor with little wait time. We've invested in the best state-of-the art diagnostic tools available to give you the most accurate care and a targeted treatment plan that works. Having the latest and the best technology from the beginning to the end of your care in our office leads to a faster recovery with less setbacks along the way. We also put a lot of stock in our entire staff, making sure that we have top-rated patient care specialists who are leaders in their field. Your health care is our priority.
Connect with our office today to schedule an appointment and begin the healing process.
DISCLAIMER: PLEASE READ CAREFULLY
The information on this website is to provide general information. In no way does any of the information provided reflect definitive treatment advice. It is essential to consult a best-in-class pain management specialist in New York regarding ANY questions or issues. A thorough evaluation should ALWAYS be performed for an accurate diagnosis and treatment plan. Be sure to call your pain doctor to schedule a consultation.
Dr. Gbolahan O. Okubadejo, M.D.

Board certified and fellowship trained
Orthopaedic Spine Surgeon

Education & training

Johns Hopkins University, Doctor of Medicine
Washington University, St. Louis, Barnes-Jewish Hospital (Internship)
Washington University, St. Louis, Barnes-Jewish Hospital, Residency in Orthopedic Surgery
University of Pittsburgh Medical Center, Fellowship in Spine Surgery
Brown University
Book Now