Spine surgery has made huge advancements and minimally invasive procedures are becoming more common, giving patients the full recovery from their pain that they're seeking with less downtime, less pain, and an easier surgical process.
With minimally invasive spine surgery at Downtown Pain Physicians NYC, you'll have a much smaller incision, less anesthesia and operating time, a shorter hospital stay, and your recovery is shorter and less taxing. Taking a minimally invasive approach to spinal surgery means using small incisions, or portals, to work under the skin with specialized instruments. The use of an endoscope gives your Orthopaedic Surgeon an illuminated, magnified view of the region in question and allows for many different surgeries to be approached in this manner. This technology has advanced patient care to next-level successes and puts you on the road to healing and enjoying life to the fullest.
Microdiscectomy and Discectomy at Downtown Pain Physicians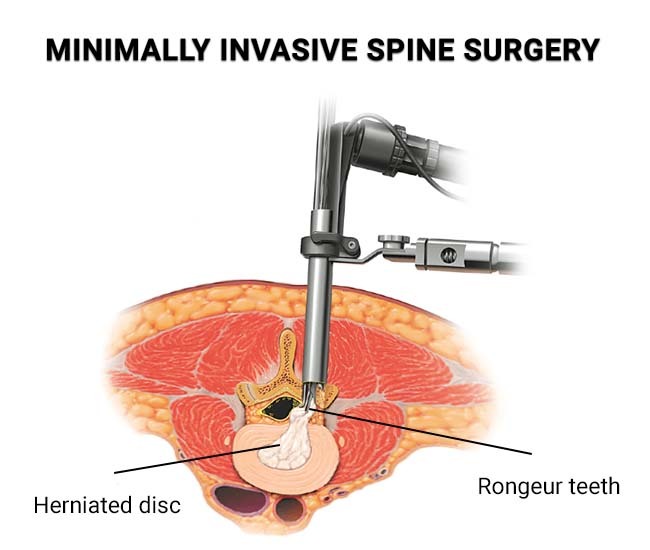 A common procedure that can be performed through minimally invasive spine surgery is a discectomy. When this procedure is done using a specialized microscope to guide the surgeon in a minimally invasive way, it's referred to as a microdiscectomy. Both of these discectomy procedures are relieving the same type of problem and pain symptoms.
A minimally invasive discectomy is a surgery that removes material that is pressing on your nerve root or the spinal cord. Typically, the material that is causing impingement in the spine is related to a herniated disc and removing this bulging material will almost immediately relieve your pain symptoms.
While lumbar microdiscectomy surgery is most common, you may have pain in regions other than your low back. It's possible that a cervical microdiscectomy or a thoracic discectomy may be recommended, depending on your level of back pain and herniation.
Lumbar Microdiscectomy Surgery
Many microdiscectomy surgeries are performed for the lumbar or the low back region of the spine. This isn't surprising when you realize that the World Health Organization reports that approximately 60-70% of the population in industrialized countries suffers from low back pain. Back pain and injuries are far too common, and the pain can be crippling.
It's not only back pain that can signal a lumbar concern, some people who suffer from hip pain and leg pain (sciatica or radiculopathy) may also benefit from a lumbar microdiscectomy or microdecompression surgery.
During this surgery, small incisions allow for the doctor to access the spine and see the regions that will be addressed. In some cases, a small opening may need to be created in the bone or the lamina, this is called a laminectomy, and it's a common procedure that allows the surgeon access to the operative site. Removal of the impinging material is done through the small incisions and the incisions are closed. After this, healing can begin.
Cervical Discectomy Surgery
Less common than lumbar microdiscectomy but still a fairly routine and minimally invasive cervical spine surgery is an anterior cervical discectomy, sometimes referred to as ACDF surgery. When a patient has a nerve impingement or herniation in their neck or cervical region, they may require the same type of microdiscectomy detailed above but in their upper spine.
Cervical surgery can be caused by a herniated disc, but a degenerative disc disease called spondylosis may also be the cause of neck pain. Both of these conditions can be treated with an ACDF procedure.
In more serious cases, the entire cervical disc is removed, and cervical fusion surgery is performed to increase stability in the neck. It will take some time for the bone graft to adequately fuse but once a patient has appropriately and adequately healed from an anterior cervical discectomy fusion surgery they are able to resume most normal daily activities without pain and to a much greater degree of enjoyment than they had prior to surgery. The good news is that when ACDF is done microscopically with our skilled surgical team you'll experience less surgical pain and a faster recovery period than with traditional surgical methods.
What To Expect with Microdiscectomy Surgery
Most microdiscectomy decompression surgeries require anesthesia or numbing and an overnight stay. After your surgery, when you are awake and the numbness has worn off, you will be encouraged to sit up in bed, start slow and gentle movements, and begin walking. It will take a bit of time before moving, walking, and even sitting feels comfortable again as your body adjusts, but you should be able to gradually increase your tolerance of these activities.
You'll often be prescribed pain medication and physical therapy exercises to ease you into regular activities safely and without additional stress and strain on your spine. The recovery period for laser microdiscectomy surgeries depends on the severity of your herniation and your lifestyle activities. Sedentary activities and work may resume in as little as two to four weeks post op but physical labor and operating heavy machinery will take longer and you can expect to have your recovery last from four to eight weeks.
Throughout the healing process, our medical staff is here to help you manage your pain, ease back into your lifestyle, and answer your questions. Our approach to patient care is all-inclusive, meaning we're here to support your recovery from beginning to end.
Meet Your Surgeon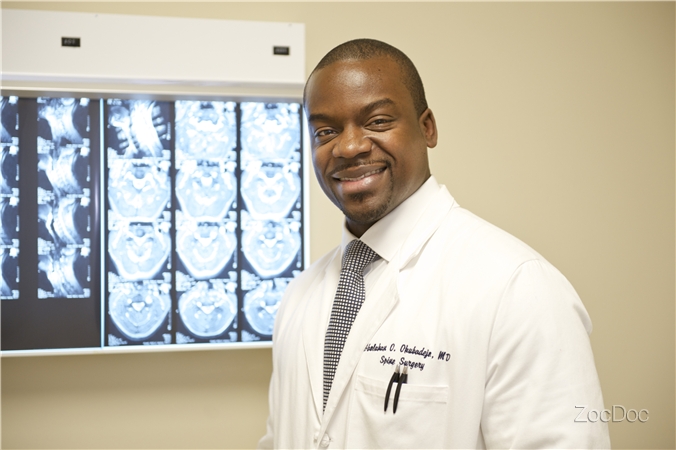 Downtown Pain Physicians has a top-rated orthopedic spine surgeon on staff, ready to help you start the recovery process. Dr. Gbolahan Okubadejo is an expert in spinal surgery, giving his patients the best care available with a focus on your long-term goals and customizing a treatment program that goes beyond surgery and incorporates after-care so you can get back to enjoying life to the fullest and participating in the activities you love.
Dr. Okubadejo is an outstanding resource for our medical group, bringing a well-rounded education and award-winning ideas to our patients. His approach to surgical options is geared toward creating best case scenarios where pain and recovery time is minimized with exceptional outcomes.



"PROFESSIONAL AND KNOWLEDGEABLE"

Doctor Okubadejo is professional and knowledgeable- seemed empathetic considering the severe amount of pain I was in and explained next steps clearly – couldn't get into any detail since I need an MRI first but felt comfortable that Dr Okubadejo seemed knowledgeable and will continue my treatment here. Front desk staff Melina also very helpful and made the visit easier for me by getting me in for last minute X-rays before I saw the doctor all on the same day, which given the urgency of the pain I was in, I very much appreciated that. Would recommend.




"HELPFUL AND UNDERSTANDING"

The specialist I seen was very informative, helpful and understanding to my situation. He gave me the proper answers I needed to make a informed decision. We recommend him to everyone. Dr. Okubadejo is the best.
Book Your Appointment Now at Downtown Pain Physicians NYC
If you're suffering with neck pain, back pain or any spinal injury, it's time to schedule an appointment and begin healing. There's no reason to put it off any longer, in fact, the sooner you begin care, the easier it is for your body to recover.
At Downtown Pain Physicians NYC, we often treat busy professionals. Our Downtown and Lower Manhattan area locations makes it convenient for people who live and work near the Lower East Side, Tribeca, Financial District, Downtown Brooklyn, Dumbo, Soho, Chelsea, East Village, Murray Hill, Brooklyn Heights, Williamsburg and surrounding areas to stop in for a consultation and appointments.
In our office, you'll find a welcoming space that puts your comfort first. From the moment you step in the door, our staff will work to accommodate your needs and get you in to see the doctor with little wait time. We've invested in the best state-of-the art diagnostic tools available to give you the most accurate care and a targeted treatment plan that works. Having the latest and the best technology from the beginning to the end of your care in our office leads to a faster recovery with less setbacks along the way. We also put a lot of stock in our entire staff, making sure that we have top-rated patient care specialists who are leaders in their field. Your health care is our priority.
Connect with our office today to schedule an appointment and begin the healing process.
DISCLAIMER: PLEASE READ CAREFULLY
The information on this website is to provide general information. In no way does any of the information provided reflect definitive treatment advice. It is essential to consult a best-in-class pain management specialist in New York regarding ANY questions or issues. A thorough evaluation should ALWAYS be performed for an accurate diagnosis and treatment plan. Be sure to call your pain doctor to schedule a consultation.
Dr. Gbolahan O. Okubadejo, M.D.

Board certified and fellowship trained
Orthopaedic Spine Surgeon

Education & training

Johns Hopkins University, Doctor of Medicine
Washington University, St. Louis, Barnes-Jewish Hospital (Internship)
Washington University, St. Louis, Barnes-Jewish Hospital, Residency in Orthopedic Surgery
University of Pittsburgh Medical Center, Fellowship in Spine Surgery
Brown University
Book Now