Revision spine surgery and spinal reconstruction surgery are complicated procedures that require the best of care for optimal outcomes. If you're in a situation where either of these procedures has been recommended or prescribed by your physician and you're living in the greater New York area, our expert spinal surgeon can help. At Downtown Pain Physicians, our goal is to help you recover from your back pain symptoms, no matter what the cause. We'll do a thorough examination and review your treatment plan options carefully, beginning with the most conservative approach. If surgery is indeed what's called for, you will be informed of your surgical options, what to expect from the surgery, and our compassionate team will be there to help throughout the entire process.
What Is Revision Spine Surgery?
Spinal revision surgery only happens when you've had a previous spine surgery and need some corrections. This can be because the initial surgery did not go as hoped or planned, but it can also be necessary after years of continued degeneration or spinal changes.
The surgical procedure you will have depends on the necessary revision. For some people this means removing scar tissue that's developed after the last surgery and is impinging nerves, for others it may be due to complications or a need for additional spinal support. Each case is different, and your medical team will keep you informed throughout the process, so you know what to expect. In any case, a spinal revision is done to address a previous back surgery outcome.
Why Do I Need Spine Revision Surgery?
The reasons for having a revision surgery are vast and depend on the previous spinal surgeries you've had. You may require lumbar spine revision fusion surgery for your low back, cervical spine revision surgery for neck complaints, or complex revision spine surgery when you have multiple areas of concern. The most common reasons for a revision surgery are:
Scar tissue formation at previous surgical site
An unsuccessful surgery
An improper diagnosis the first time
Post-surgical complications
Hardware failure
Herniation
Infection
Trauma
Degenerative spinal disorders
Additional fusions become necessary
No matter the reason, the goal of revision surgery is to reduce pain and return you to normal activities. Each surgery is different so your medical team can tell you what your particular surgery will entail, how long recovery will be, and how to prepare. If you have questions about your condition, schedule a consultation with Downtown Pain Physicians, our team is here to help.
What Is Spinal Reconstruction Surgery?
Spinal reconstruction surgery can be very different from spinal revision surgery. In many situations, the spinal reconstruction and fusion surgery is the first surgical procedure the patient is having on their back. But there are some situations where the spinal reconstruction is another type of revision that will address spinal stenosis and scarring that resulted from a prior surgery.
Unless a trauma was involved, candidates for complex spinal reconstruction have had serious conditions for a long time and have tried numerous other methods to alleviate their pain and other symptoms. It's important that you seek out expert care and the most qualified spinal reconstruction surgeons.
The goal of spinal reconstruction is to restore function and reduce pain. This procedure is sometimes called a spine fusion (link to spinal fusion page) and immobilizes the spine in that spot to eliminate movement, release impinged nerves, and create stability.
Do I Need Spinal Reconstruction Surgery?
Your medical team will make the decision on whether your condition requires spinal surgery, what type of surgery you'll need, and what course your treatment plan will take. That said, the following are some conditions that might benefit from spine reconstruction.
Scoliosis and other spinal deformities
Severe arthritis that causes spinal weakness and instability
Disc herniation
Degenerative disc disease
Fractured vertebra
Tumor (or tumor removal)
Infection of the spinal column
What to Expect From Reconstruction Surgery for the Spine
Your surgery will be customized, but the following data points can help you anticipate what might happen during your surgery. They can also help you come up with questions or concerns you might have that your surgical team can help you understand.
Bone grafts and artificial materials might be used to achieve the best results
You might be able to donate your own bone graft material at the time of your surgery
Sometimes this surgery can be minimally invasive for less scarring and faster recovery
You may have other procedures during your surgery
There are risks and possible side effects to this surgery
Spine fusions mean a permanent decrease in flexibility in the spine
You will need time off work and regular activities for adequate recovery
Expect to need some help as you recover, before limitations are removed and maybe even after
Meet Your Surgeon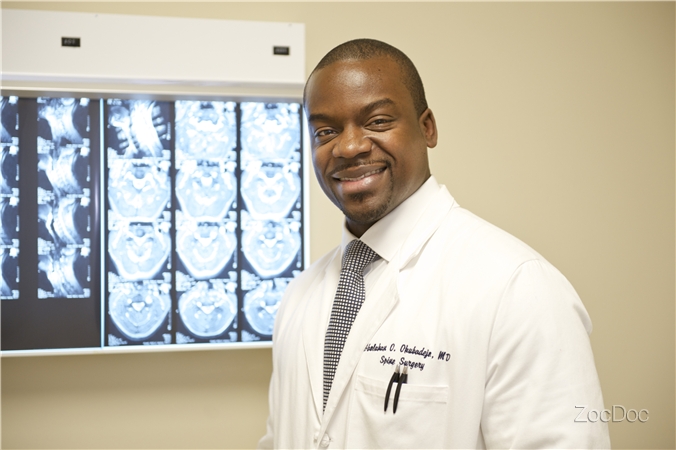 Downtown Pain Physicians has one of the best orthopedic surgeons on staff, ready to help you start the recovery process. Dr. Gbolahan Okubadejo is an expert in spinal surgery, giving his patients the best care available with a focus on your long-term goals and customizing a treatment program that goes beyond surgery and incorporates after-care so you can get back to enjoying life to the fullest and participating in the activities you love.
Dr. Okubadejo is an outstanding resource for our medical group, bringing a well-rounded education and award-winning ideas to our patients. His approach to surgical options is geared toward creating best case scenarios where pain and recovery time is minimized with exceptional outcomes.



"HELPFUL"

The specialist I saw was very informative, helpful and understanding to my situation. He gave me the proper answers I needed to make a informed decision. We recommend him to everyone. Dr. Okubadejo is the best.




"KNOWLEDGEABLE"

Very knowledgeable. And awesome bed side manner
Book Your Appointment Now at Downtown Pain Physicians NYC
If you're suffering with neck pain, back pain or any spinal injury, it's time to schedule an appointment and begin healing. There's no reason to put it off any longer, in fact, the sooner you begin care, the easier it is for your body to recover.
At Downtown Pain Physicians NYC, we often treat busy professionals. Our Downtown and Lower Manhattan area locations makes it convenient for people who live and work near the Lower East Side, Tribeca, Financial District, Downtown Brooklyn, Dumbo, Soho, Chelsea, East Village, Murray Hill, Brooklyn Heights, Williamsburg and surrounding areas to stop in for a consultation and appointments.
In our office, you'll find a welcoming space that puts your comfort first. From the moment you step in the door, our staff will work to accommodate your needs and get you in to see the doctor with little wait time. We've invested in the best state-of-the art diagnostic tools available to give you the most accurate care and a targeted treatment plan that works. Having the latest and the best technology from the beginning to the end of your care in our office leads to a faster recovery with less setbacks along the way. We also put a lot of stock in our entire staff, making sure that we have top-rated patient care specialists who are leaders in their field. Your health care is our priority.
Connect with our office today to schedule an appointment and begin the healing process.
DISCLAIMER: PLEASE READ CAREFULLY
The information on this website is to provide general information. In no way does any of the information provided reflect definitive treatment advice. It is essential to consult a best-in-class pain management specialist in New York regarding ANY questions or issues. A thorough evaluation should ALWAYS be performed for an accurate diagnosis and treatment plan. Be sure to call your pain doctor to schedule a consultation.
Dr. Gbolahan O. Okubadejo, M.D.

Board certified and fellowship trained
Orthopaedic Spine Surgeon

Education & training

Johns Hopkins University, Doctor of Medicine
Washington University, St. Louis, Barnes-Jewish Hospital (Internship)
Washington University, St. Louis, Barnes-Jewish Hospital, Residency in Orthopedic Surgery
University of Pittsburgh Medical Center, Fellowship in Spine Surgery
Brown University
Book Now