If you're considering back pain surgery, you've probably tried a number of treatments to ease your symptoms and to help you return to your normal activities of daily living. Spinal surgery is rarely a first option when it comes to back pain but sometimes it is the best solution. It all depends on your pain, the diagnosis, and the treatments you've already tried. At Downtown Pain Physicians, our pain treatment experts and orthopedic spine surgeons will work diligently to help you move beyond pain and begin to enjoy life again. If back surgery is the best option for you, there are many different approaches. Two modern ways to approach back surgery include transforaminal lumbar interbody fusion (TLIF) and extreme lateral interbody fusion (XLIF).
What Is TLIF
Transforaminal lumbar interbody fusion is a mouthful, that's why it's simply referred to as TLIF or TLIF surgery. While it's a difficult phrase to say, it's not a new surgery. A TLIF procedure is basically spinal fusion surgery that is approached in a different way.
Spinal fusion is when two or more vertebrae in the spine are permanently joined together. Fusion is a useful surgical option for correcting deformities in the lumbar region, reducing pain due to nerve or spinal cord impingement and compression, and when you need to improve stability. People who have spondylolisthesis, degenerative disc disease, or recurrent herniations may be good candidates.
Choosing a TLIF back surgery means that your doctor approaches your spine from the back. Transforaminal literally means through the foramina, which are the little archways created between the vertebrae. This is where the spinal nerve roots run and branch out. The benefit is that minimally invasive TLIF spine surgery can make recovery easier and shorten your down time.
What Is XLIF
Obviously, the acronym for XLIF surgery is very similar to TLIF, and you'd be right to assume that the procedure is similar also. XLIF stands for extreme lateral interbody fusion, this is another spinal fusion surgery that's performed in the lumbar or low back region and for all the same reasons as a TLIF surgery is performed.
In an XLIF procedure, the surgeon approaches the spinal column from the side of the body, not the back or the front. There are many XLIF fusion benefits:
Less surgery time (which means less time under anesthesia)
Less blood loss and minimal scarring
Less pain after surgery because major back muscles are avoided
More mobility sooner
Shorter hospital stays
A quicker return to normal activity
You may also hear the term NuVasive XLIF procedure, this is the same procedure, it's simply been branded with the medical device company's name. There's no reason to let that be confusing or detract from the procedure itself.
Why Have XLIF or TLIF Surgery?
Both of the spinal fusion surgeries are for the lumbar region of the back and they're often not the first step in a treatment program. In fact, most of the conditions that are prime for a XLIF or TLIF fusion surgery are ones that have been ongoing and getting progressively worse. These conditions include:
Degenerative Disc Disease (DDD). As a part of the aging process, the discs between your vertebrae can begin to lose flexibility, elasticity, and can tear. This can lead to compression of your spinal nerves and possibly herniation. This condition does not get better over time, in fact, it's the opposite and it continues to get worse. Having a fusion can relieve your nerves and reduce or eliminate pain.
Disc Herniation. Disc herniation can occur due to DDD, but there are many other conditions and trauma that can prompt a herniated disc. When other treatments don't work and a person is left in chronic pain and with limited mobility, then a TLIF of XLIF surgical procedure can be the solution.
Spondylolisthesis. If you have spondylolisthesis, then one vertebra has slipped forward and created an instability. This is usually caused by degenerative changes but not always, stress fractures, congenital abnormalities, tumors, or trauma can also prompt spondylolisthesis.
Degenerative Scoliosis. Most people are aware of the curvature of the spine condition called scoliosis, it's something they check for in childhood, but few people are aware that there is a similar condition called adult degenerative scoliosis which happens as you age. Minimally invasive TLIF or XLIF can be a great benefit here.
No matter what condition you have that leads you to considering spine surgery, our surgical team at Downtown Pain Doctors NYC is here to help you along the way and answer all of your questions.
What to Expect with TLIF and XLIF Surgery
If you and your surgeon decide that a fusion surgery is right for you, then XLIF or TLIF might be an option. No matter which type of surgery is best to relieve your back pain symptoms, you can expect the following:
Pre-operation, you'll have a list of instructions to follow which include preparing for your return from surgery, possibly stopping some medications before surgery, not eating anything the night before you present to the hospital, and arranging for a driver, time off work, and other assistance during recovery
The day of surgery you'll present to the surgical center and meet with the anesthesiologist who will answer your questions, administer anesthetic and then monitor you throughout the procedure
Your surgeon will make one or a few small incisions to access your spine with the necessary tools and viewing devices
Dilators will be used to direct the path while monitoring nerves
Tissue that's in the path will be moved to the side during the procedure
Your diseased or damaged disc is removed
An implant, whether bone graft or other material, will be worked into place
The next step is fixation which will typically be done with an internal brace consisting of screws and plates
When your surgeon is sure that the procedure is complete, they will begin retracting equipment and returning tissues to their proper location
Your wounds will be sutured and dressed, and you'll be moved to a recovery room
XLIF and TLIF surgeries often require a hospital stay, but a much shorter one than traditional spine surgery and fusion surgeries require. You may be asked to try to sit up and walk within hours of recovery to begin your healing process.
When you're in the hospital, you'll once again go over your medications, physical therapy, follow-up appointments, wound care, and probably most importantly your restrictions. This is information you will have before the treatment, but it's important to review it and follow it for the best results possible and the shortest healing time.
Meet Your Surgeon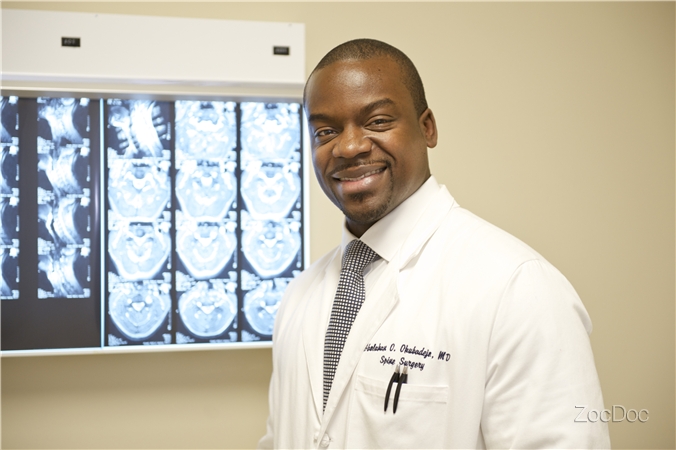 Downtown Pain Physicians has one of the best orthopedic surgeons on staff, ready to help you start the recovery process. Dr. Gbolahan Okubadejo is an expert in spinal surgery, giving his patients the best care available with a focus on your long-term goals and customizing a treatment program that goes beyond surgery and incorporates after-care so you can get back to enjoying life to the fullest and participating in the activities you love.
Dr. Okubadejo is an outstanding resource for our medical group, bringing a well-rounded education and award-winning ideas to our patients. His approach to surgical options is geared toward creating best case scenarios where pain and recovery time is minimized with exceptional outcomes.



"PROFESSIONAL"

Doctor Okubadejo is professional and knowledgeable – seemed empathetic considering the severe amount of pain I was in and explained nexts steps clearly – couldn't get into any detail since I need an MRI first but felt comfortable that Dr Okubadejo seemed knowledgable and will continue my treatment here. Front desk staff Melina also very helpful and made the visit easier for me by getting me in for last minute X-rays before I saw the doctor.




"KNOWLEDGEABLE"

Very knowledgeable. And awesome bed side manner
Book Your Appointment Now at Downtown Pain Physicians NYC
If you're suffering with neck pain, back pain or any spinal injury, it's time to schedule an appointment and begin healing. There's no reason to put it off any longer, in fact, the sooner you begin care, the easier it is for your body to recover.
At Downtown Pain Physicians NYC, we often treat busy professionals. Our Downtown and Lower Manhattan area locations makes it convenient for people who live and work near the Lower East Side, Tribeca, Financial District, Downtown Brooklyn, Dumbo, Soho, Chelsea, East Village, Murray Hill, Brooklyn Heights, Williamsburg and surrounding areas to stop in for a consultation and appointments.
In our office, you'll find a welcoming space that puts your comfort first. From the moment you step in the door, our staff will work to accommodate your needs and get you in to see the doctor with little wait time. We've invested in the best state-of-the art diagnostic tools available to give you the most accurate care and a targeted treatment plan that works. Having the latest and the best technology from the beginning to the end of your care in our office leads to a faster recovery with less setbacks along the way. We also put a lot of stock in our entire staff, making sure that we have top-rated patient care specialists who are leaders in their field. Your health care is our priority.
Connect with our office today to schedule an appointment and begin the healing process.
DISCLAIMER: PLEASE READ CAREFULLY
The information on this website is to provide general information. In no way does any of the information provided reflect definitive treatment advice. It is essential to consult a best-in-class pain management specialist in New York regarding ANY questions or issues. A thorough evaluation should ALWAYS be performed for an accurate diagnosis and treatment plan. Be sure to call your pain doctor to schedule a consultation.
Dr. Gbolahan O. Okubadejo, M.D.

Board certified and fellowship trained
Orthopaedic Spine Surgeon

Education & training

Johns Hopkins University, Doctor of Medicine
Washington University, St. Louis, Barnes-Jewish Hospital (Internship)
Washington University, St. Louis, Barnes-Jewish Hospital, Residency in Orthopedic Surgery
University of Pittsburgh Medical Center, Fellowship in Spine Surgery
Brown University
Book Now