Tailbone pain in Downtown Brooklyn & Lower Manhattan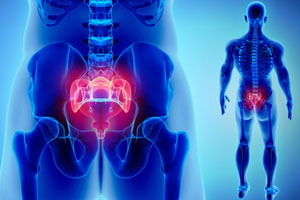 Our award-winning pain medicine specialists at Downtown Pain Physicians offer the latest tailbone pain treatments to our patients in Manhattan & Brooklyn.
If you have tailbone pain, there are many different treatment options. Sometimes the symptoms will resolve on their own with time and conservative treatment. Lingering pain should always be treated by your pain medicine doctor, such as Dr. Raval, to rule out any serious complications.
To treat tailbone pain, our doctors use conservative methods such as physical therapy, chiropractic care, hot and cold therapy to relieve pressure on the tailbone and the surrounding muscles, as well as injection-based treatments, such as coccyx injection and radiofrequency ablation.
What Is Tailbone Pain?
Your tailbone, or coccyx, rests at the base of your spine. When you have a pain in the area of your tailbone, it's referred to as coccydynia or coccygodynia. Coccyx pain usually feels dull and achy but, with certain movements or activities, it can become sharp and very intense.
Depending on the severity of your coccygodynia and your symptoms, the pain symptoms can be short in duration or they can last longer and require treatment, like a coccyx injection, to ease the pain.
If you live in the New York City area, Downtown Pain Physicians can help you find the right treatment option for your tailbone pain so you can resume normal activities without discomfort. We use state-of-the-art technology to pinpoint a diagnosis and then work with a combination of treatment options to find a customized solution. Our approach begins with the least-invasive options for effective solutions.
What Causes Tailbone Pain?
A fall or injury is often the cause of tailbone pain but there can be other precipitating factors.
Prolonged sitting on a hard or narrow surface can strain muscles and cause pain in the coccyx region. Similarly, poor posture may put strain on the muscles surrounding your coccyx and cause pain.
Degenerative Disc Disease. Age-related breakdown of the spinal discs or degenerative joint changes can cause issues in the spine and surrounding area, which leads to tailbone pain.
Women who have vaginal childbirth sometimes have pain in the coccyx region as a result.
Repetitive Strain Injury. Some repetitive movements can cause injuries to the coccyx and lead to pain. Cycling and rowing are two sports that put a lot of pressure and strain on the tailbone, which can lead to long-term or permanent damage.
Being both overweight and underweight can be a contributing factor for coccyx pain. Excessive weight puts a strain on your spine and muscles while being underweight might mean you don't have enough "padding" and your coccyx is more exposed to hard surfaces and less protected during falls.
There are some instances where people develop an abscess or an infection in the buttock or tailbone region and this can cause significant pain. It's not common but can happen.
Bone cancer or cancer that spreads to the bones can prompt coccyx pain.
As people age, their bodies are not as resilient as they once were and there are more aches and pains. This happens throughout the body and includes the tailbone.



"Most pleasant"

My experience at this facility was honestly the most pleasant. After going through different doctors and chiropractors, Dr. Raval and his staff were able to get me back on my feet in just a few treatments. They're very kind and easy to work with, I was able to make a last minute visit with the doctor, and the hours were convenient. As a patient, I am fully satisfied with my experience at this office.




"Explains everything"

Sofia, who is always at the front desk, is so sweet and friendly! She always makes me feel welcomed at the office. Dr. Raval is also very kind and explains everything in layman's terms, which is super helpful. Thanks so much, guys! 🙂
What Are the Symptoms of Tailbone Pain?
There are some interesting symptoms of tailbone pain that you might not expect, but these symptoms are often felt in combination with other, more obvious tailbone pain symptoms. If you think you have coccygodynia, check for one or more of these symptoms.
Aching around the tailbone. Feeling an ache at the base of your spine is a sure sign of coccygodynia, it's also the most common symptom. You might have sharper pains that happen occasionally, but an overall ache, soreness, or tight feeling is a typical complaint.
Sharp and stabbing pains. Rising from a seated position, sitting, or other specific movements can tweak your tailbone and the surrounding muscles in a way that causes significant pain. Usually, these pains go away quickly or can be relieved by moving. Often sharp pains are followed by an aching feeling.
Pain with sexual intercourse. Quite a few people with coccygodynia report that having sex causes their pain to increase. The proximity of the genitals to the coccyx can add pressure to stressed and strained muscles in that region.
Pain with defecation. Another symptom you might not expect is having pain during a bowel movement. Defecating can strain or put pressure on your tailbone and the surrounding muscles and soft tissue, which can lead to pain symptoms.
Pain or aching above the buttocks. Having buttock pain where you sit is commonly connected with coccygodynia, but feeling aches and pain above the buttocks, almost in the low back region, can also be a symptom of tailbone pain.
Diagnosing Coccygodynia
A visit to Downtown Pain Physicians will give you the right diagnosis for your condition. The right diagnosis makes all the difference when creating a customized treatment plan for your situation. This level of confidence in the cause of your pain and knowing that there is a treatment plan available is priceless.
Many cases of tailbone pain can be diagnosed with an office visit and palpation (light touching) of the region. Sometimes an x-ray or an MRI scan may be required to check for a fracture after an injury or degenerative conditions related to aging.
Tailbone Pain Treatment Options
If you have tailbone pain, there are many different treatment options. Sometimes the symptoms will resolve on their own with time and conservative treatment. Lingering pain should always be treated by a professional to rule out any serious complications.
Your Downtown Pain Physicians doctor will begin with the most conservative treatment options and work from there. Expect a combination of the following as your customized treatment plan for tailbone pain.
Rest
Over-the-counter pain relievers
Ice/Heat
Massage
Surgery
Dr. Raj Raval, M.D.

Board Certified
Interventional Pain & Musculoskeletal Medicine Specialist

Education & training

SUNY Health Science Center
Rutgers University Fellowship
Book Now
Dr. Rodion Erenburg, MD

Board Certified
Interventional Pain & Musculoskeletal Medicine Specialist

Education & training

SUNY Health Science Center
Rutgers University Fellowship
Book Now