Rotator Cuff Tear in Downtown Brooklyn & Lower Manhattan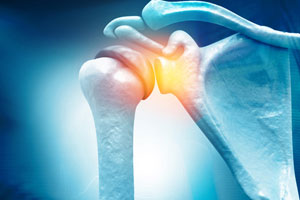 A rotator cuff tear is a tear that affects the group of four muscles and tendons, which have the function of stabilizing the shoulder joint. These four muscles are also responsible for allowing us to lift and rotate the arms, or other referred to as the rotator cuff. Other names for this condition are full-thickness tear or a complete tear.
Rotator cuff tears can be divided into a partial tear or a complete tear. A partial tear of the rotator cuff is when the muscles which form the rotator cuff are either damaged or frayed. A complete tear occurs if the tear reaches the tendon or pulls it off of the bone.
A rotator cuff injury is a very common injury and occurs specifically during sports such as tennis or baseball, or while doing jobs such as painting or cleaning windows. Typically, it occurs over time due to wear and tear, or while repeating the same motion using the same arm over and over. However, falling on the arm or lifting something heavy can also be causes of a rotator cuff tear.
Visit one of your pain and rehabilitation centers in New York to recover from rotator cuff tear and its side-effects with the latest non-surgical treatment options, including steroid injections, physical therapy, and Ultrasound therapy, and prolotherapy. Our doctors are experts in treating shoulder pain and can pinpoint your pain source and prescribe a personalized, time-tested treatment plan that works.
What are the symptoms of rotator cuff tear?
A torn rotator cuff doesn't lead to symptoms in all cases. In some cases, it can lead to a weakness in the shoulder, it can cause issues with raising the arm, can lead to pain whenever you move the arm in certain ways or whenever you lie on it, not being able to lift things the way that you would normally do or you might hear a popping or a clicking sound whenever you move the arm.
You must speak to your doctor if you notice any of these symptoms. In cases where you leave your rotator cuff tear untreated, it can cause more serious issues over time. You might end up suffering from arthritis or a frozen shoulder.
What are the causes and risk factors of a rotator cuff tear?
You might suffer a rotator cuff tear by injuring the shoulder or by wearing down the tendons over time. A tear that occurs due to a worn-down rotator cuff is referred to as a degenerative tear. Risks of suffering from such a rotator cuff tear include age, as it more commonly occurs in those who are over 60 years old, but also occupation. People who work at construction or as house painters are at a higher risk of suffering such a rotator cuff tear due to repetitive motion. A lack of blood supply can also increase the risk of suffering such a rotator cuff tear.
As we are older the less blood the rotator cuff area reaches the area, larger tears can occur as small tears continue getting harder and harder to repair. If you have a bone overgrowth in the shoulder, which can occur the older you get, you might suffer a tear of the rotator cuss of the rotator cuff tissues wear away.
Experts also believe that there is a genetic piece to a tear of a rotator cuff. Playing certain sports, such as weightlifting, tennis, rowing, or baseball can all stress the rotator cuff and increase the risk of a tear.
How is a rotator cuff diagnosed?
To find out whether you have torn the rotator cuff or not, the doctor will first do a physical examination of your shoulder and ask you questions about your history of injuries. During the physical exam, your doctor will check your muscle strength and range of motion. Your doctor will also take a look at what movements might cause pain in your shoulder.
There are cases where further imaging tests might be necessary, such as an MRI, an X-ray, or an ultrasound. An MRI uses radio waves, as well as a powerful magnet to provide detailed pictures of the shoulder. An X-ray can show whether the top of the arm bone pushes into the rotator cuff space. An ultrasound can show the state of the soft tissues, such as muscles, tendons, or the bursas in the shoulder.
What complications can a rotator cuff lead to?
If you don´t seek treatment for rotator cuff tear, you might suffer from complications. It can begin with weakness and end with an inability of moving the shoulder permanently. It might also cause severe damage to the shoulder joint. Other complications that can occur due to a rotator cuff tear are frozen shoulder and arthritis.
What does rotator cuff tear treatment look like?
Your local healthcare professional or injury specialist will begin with a combination of several treatments, such as medications like anti-inflammatory drugs and acetaminophen, which can help to provide relief from the pain and swelling, physical therapy, which can help to strengthen the shoulder muscles and an exercise program which you can do at home and can help healing from a rotator cuff tear. You must rest your shoulder during this time, as it can allow the rotator cuff to heal, however, there is a risk of suffering from a frozen shoulder if you don't move the shoulder at all for a longer time.
In certain cases, a rotator cuff treatment can be relieved with the use of steroid injections. Steroid injections might be injected directly into the shoulder joint and this can provide temporary pain relief. Such injections are typically a combination of a cortisone and local anesthetic, which can help to control the pain but cannot improve healing.
In cases where noninvasive treatment options for rotator cuff tear aren't successful, you might need surgery. During such a procedure, the surgeon might need to stitch the torn area together or reattach the tendon to the bone. There are cases where a small piece of a tendon or bone is stuck in the shoulder joint and needs to be removed, or small areas of tissue or bone need to be removed to provide the tendon with more space to move. Some surgical procedures that can be used in cases of a rotator cuff tear include arthroscopy, a mini-open surgery, an open surgery, a tendon transfer, or a shoulder replacement.



"BEST MEDICAL PRACTICE"

Best medical practice I have in my entire life received the best treatment for multiple injuries I received causing pain and he has also provided the best treatment to my son as well. Dr. Raval takes his time always returns my calls and has treated my son and I as his own family. The staff are all amazing and professional. I would give them more than a 5 Star. So grateful they exist.




"PLEASANT AND PROFESSIONAL"

Best doctor visit I ever had. Staff was pleasant and the doctor was very pleasant and professional. Took his time and answered all my questions.
What is the outlook for rotator cuff tear?
How quickly you will recover from this condition will depend on the severity of the tear, as well as what rotator cuff treatment has been used. The smaller the tear is and the more recent it is, the better your chances are of gaining a full range of motion quickly. You must be patient during this healing process, as it is gradual and full recovery can last up to one year.
Can a rotator cuff tear be prevented?
If you're trying to prevent a rotator cuff tear, you must do exercises and strengthen your shoulder muscles. This is especially important if you work a high-risk job or do certain sports that can increase your risk of suffering from rotator cuff tear. Your doctor can show you what exercises can help you to strengthen the necessary muscles to decrease your chances of suffering from a rotator cuff tear.
For more information about Rotator Cuff Tear treatment or schedule an appointment with the shoulder specialists and top-rated pain doctors in Downtown, Brooklyn, and Lower Manhattan, please call our office for a consultation and indicate which location you want to visit.
Dr. Raj Raval, M.D.

Board Certified
Interventional Pain & Musculoskeletal Medicine Specialist

Education & training

SUNY Health Science Center
Rutgers University Fellowship
Book Now
Dr. Raphael Jaramillo, MD

Board Certified
Interventional Pain & Musculoskeletal Medicine Specialist

Education & training

Touro College of Osteopathic Medicine
New York University
Rutgers University
Book Now