Surgery is not required for every orthopedic condition. At University Hospitals, our orthopedic team offers a wide range of non-surgical techniques to effectively treat muscle pain, skeletal pain and lack of mobility.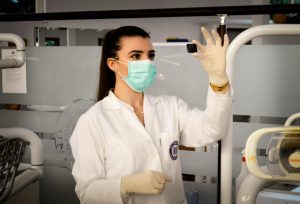 Non-Surgical Orthopedic Treatments
These treatments can restore proper movement, strengthen muscles and joints, and increase range of motion without surgery. We will help you decide on the optimal care path for your orthopedic condition to achieve your personal health goals and get you back on your feet.
Book Appoinments
212.404.8070
Orthopedic non-surgical treatments may include:
Minimally Invasive Procedures
Individualized Treatment Plans
Our multidisciplinary care teams may include orthopedists and sports medicine physicians, but also primary care physicians, radiologists, nurses, physical and occupational therapists and other providers. Together, we will design a step-by-step treatment plan based on your unique care needs. Those steps may include:
Activity Modification: In some cases, resting the affected area and allowing it to repair on its own is the only care needed.
Assistive devices: A brace, orthotic, sling, cane or other assistive device can allow the injury to repair.
Steroid injections: A program of injections, which may include a combination of numbing injections, could be utilized to relieve pain and improve function. These injections may also help our team decide if your condition requires stronger therapies.
Advanced Minimally Invasive Treatments
Together, we may choose to pursue a minimally invasive procedure to reduce your joint discomfort or improve your mobility. Our highly trained and skilled physicians are experienced in a wide variety of these treatments that can be performed. These treatments include:
Percutaneous tenotomy: This treatment uses ultrasound guidance to identify diseased, pain-generating tendon tissue and employs a tiny needle moving at ultrasonic speed to remove it. Sodium hyaluronate injections: This is a treatment to simulate the fluid that surrounds the joint. These injections can relieve pain caused by arthritis of the knee. Non-Surgical Treatment Options to treat the musculoskeletal system (which includes your bones, joints, ligaments, tendons, and muscles) can be used to help relieve:
"EXPERIENCE HAS BEEN GREAT!"

My experience has been great! The doctors are knowledgeable. They listen to my concerns and questions and always give great feedback. Sofia at the front desk is so pleasant and super helpful.

"AMAZING AND THOROUGH"

Amazing and thorough! I did not feel rushed at all. Dr. Raval answered all my questions and we easily came up with a treatment plan for my issue.
Read more reviews
Bone Problem Pain:
Bone Deformity Pain
Bone Infection Pain
Bone Tumor Pain
Bone Fracture Pain
Nonunion Pain – (pain from a broken bone that fails to heal)
Malunion Pain – (pain from a fracture that heals in a wrong position)
Spinal Deformity Pain
Joint Problem Pain
Arthritis Pain
Bursitis Pain
Dislocation Pain
Joint Inflammation Pain
Joint Pain
Joint Swelling Pain
Ligament Tear Pain
Ankle & Foot Pain
Arthritis Pain
Bunion Pain
Fasciitis Pain
Foot and Ankle Deformity Pain
Fracture Pain
Hammer Toe Pain
Heel Pain
Heel Spur Pain
Joint Pain
Ligament Injury Pain
Sprains
Hand & Wrist Pain
Carpal Tunnel Syndrome Pain
Ganglion Cyst Pain
Hand Arthritis Pain
Hand Fracture Pain
Hand Ligament Pain
Hand Tendon Pain
Infection Pain
Joint Pain
Tendinitis Pain
Tendon Tear Pain
Wrist Arthritis Pain
Dr. Raj Raval, M.D.

Board Certified
Interventional Pain & Musculoskeletal Medicine Specialist

Education & training

SUNY Downstate PMR Residency
Rutgers University Fellowship
Book Now